Tomato Spotted Wilt Virus
Tomato Spotted Wilt Virus
Jan McGuinn, Agricultural Extension Agent, Rutherford County
N.C. State Entomologists and Pathologists are unlocking the mystery surrounding Tomato Spotted Wilt Virus (TSWV). The virus is ranked as one of the top ten economically important viruses worldwide. TSWV causes millions of dollars in estimated losses annually, infecting some 800 plant species in 70 countries.
In their attempt to help growers in North Carolina and beyond wage an effective counterattack, College faculty members have embarked on an mission to learn more about the virus and what makes it such a formidable foe.
In the 1980's TSWV erupted with a vengeance throughout the Southeastern United States. Tomato, peanut and tobacco crops were hurt, and some bedding plant greenhouses were completely wiped out with individual growers losing hundreds of thousands of dollars according to Dr. Jim Moyer, Extension Plant Pathologist.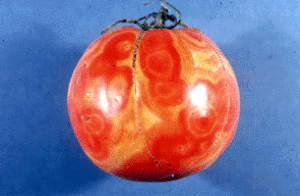 Growers were stymied by several problems: For one, they found the disease difficult to diagnose. The stunting, stem­browning, necrotic lesions, plant death and other symptoms that it causes are also characteristic of other problems that are managed differently. "In tomatoes, it looks like chemical injury­round, necrotic lesions, like someone dropped acid on them. In gloxinia, it looks like the fungus Phytophthora, with rot around the crown. In other plants, it looks like bacterial canker," Moyer stated.
N.C. State has developed a diagnostic test for the virus that continues to be the industry standard. In the floral crops industry, propagators no longer turn to weak, leftover plants as the starting point for next year's crop. Instead, they propagate from tissue culture. And growers have begun screening their greenhouses to keep out thrips, the vector of the virus.
While effective, such control measures are costly, so the American Floral Endowment, the North Carolina Tobacco Foundation, the U.S. Department of Agriculture's Southern Regional Integrated pest Management Program, and numerous private firms continue to support N.C. State's ongoing TSWV research.
Those involved with the research include: Dr. George Kennedy, Dr. Clyde Sorenson, Dr. Jim Baker (Extension Entomology Specialists), and Dr. James Moyer & Dr. Ron Jones (Extension Plant Pathologists).
** As an update, two trainings for North Carolina Extension Agents occurred in July 2002. During the spring months, eastern portions of North Carolina have experienced great losses in the tomato, tobacco, and peanut crops due to TSWV. For the first time, potatoes have been isolated with the disease in North America originating in North Carolina. Of greatest concern in field settings and around greenhouse areas is the buildup of the virus in the annual and perennial weed populations. Eliminating these weed hosts has the potential of lessening the spread of the virus from weed to crop. In the western portion of the state, already confirmed fields with TSWV have occurred on tobacco and tomato during the past two growing seasons. The virus can only be spread by thrips ­ Western flower thrip and tobacco thrips. Controlling the insects help, but will not totally eliminate the disease.