New Pest for North Carolina – Emerald Ash Borer
 New Pest Update – Emerald Ash Borer Quarantine Area Over North Carolina

           The Emerald Ash Borer (EAB) was introduced into the United States in 2002 in the Michigan area. Since then, it's continued to expand its destructive range to include central and eastern states and portions of Canada. By 2013, it had reached North Carolina and a quarantine of all ash wood products from Person, Vance, Granville, Franklin, Warren and Wayne counties was established. The bordering counties of Tennessee were also placed under quarantine at that time.
The quarantine region is now expanded to include all North Carolina counties (Sept 2015).
Pictured below, the emerald ash borer is a metallic green beetle that bores into the bark of ash trees, ultimately killing them. Direct evidence of the beetles can also be seen as small, 1/8" D-shaped exit holes, where the adult beetles have exited the tree.
     N.C. Forest Service has been and will continue to monitor for the emerald ash borer by use of pheromone-baited traps. Most recently, damage was also seen on fringetree. Within the state we have four species of native ash trees that stand to be impacted, as well as, many ash trees that are utilized in urban plantings.
(Condensed from – NCFS-Emerald Ash Borer FAQ)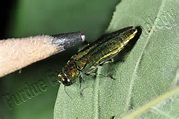 "D-Shaped" Exit Hole